RoeTech 302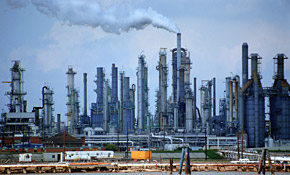 ROETECH 302 is a highly concentrated mixture of spores and vegetative bacteria. Bacillus and Pseudomonas are combined to provide a multiple enzyme producing culture designed specifically to degrade surfactants, hydrocarbons ammonia and other chemicals in mixed wastewaters.
ROETECH 302 is formulated with an emphasis on hydrocarbons, petrochemicals, oils and other compounds which can be more difficult to degrade and pose a pollution hazard. It is the product of choice for ammonia reduction.
ROETECH 302 is comprised of 70% Pseudomonas bacteria and 30% Bacillus in a very concentrated one billion per gram powder.
ROETECH 302 is ideal for ATU's, package sewage systems and wastewater pre-treatment systems as well as larger WWTPs that handle higher levels of chemical components and ammonia.
Product Specifications
302 Powder
---
Bacteria Count
CFU/gram
1 billion
109

Enzymes Produced*
Protease
Lipase
Amylase
Urease
Cellulase
Nitrate Reductase

Various degradative enzyme systems to degrade hydrocarbons, chemicals and ammonia.


pH range
6 - 10
temperature range
5°C - 55°C
oxygen requirements
facultative anaerobe
aerobic
Product Benefits
Routine use of RoeTech 302 will:
---
Reduce Wastewater BOD & COD
Reduce Suspended Wastewater Solids
Control Wastewater Odor
Lower FOG
Reduce Wastewater Sludge Volume
Reduce Wastewater Ammonia
Improve start up and recovery from shock loading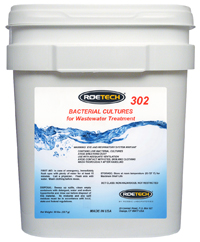 High levels of these and other enzymes produced* by the Bacillus strains in 106 result in an extremely effective and versatile blend with many uses and applications.

Download RoeTech 302: Brochure | 302 SDS
If you don't have an FREE Adobe Acrobat reader on your system, click

.