RoeTech 106PS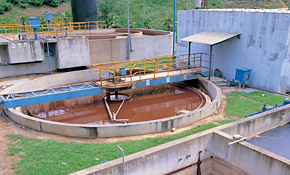 ROETECH 106 PS is a highly concentrated mixture of spore forming and vegetative bacteria. The Bacillus and Pseudomonas species provide a multiple enzyme producing culture with enhanced capacity to degrade surfactants, hydrocarbons and other chemicals in addition to standard sewage components.
This blend is offered as a bulk powder and in 8-ounce water-soluble packs.
Applications include municipal wastewater, food processing, livestock manure ponds, aerated septic tanks, or aerated treatment units (ATU's).
Product Specifications
106 PS (Powder) 106 PS WS-8 Water Soluble Packs
---
Bacteria Count
CFU/gram
1 billion
109

Enzymes Produced*
Protease
Lipase
Amylase
Urease
Cellulase
Nitrate Reductase


pH range
6 - 10
temperature range
5°C - 55°C
oxygen requirements
facultative anaerobe
aerobic

50 Lb pail - gross wgt. 56 lbs; Net wgt. 50 lbs
Pail Measurements: 12.5" W x 12.5" L x 21.5" H
106 PS WS860 - Gross wgt. 35 lbs; Net wgt. 30 lbs
Pail Measurements: 12.5" W x 12.5" L x 21.5" H
106 PS WS820 - Gross wgt. 12 lbs; Net wgt. 10 lbs
Pail Measurements: 11" W x 10" L x 9.5"

Product Benefits
Routine use of RoeTech 106PS/106PSWS-8 will:
---
Reduce Wastewater BOD
Lower COD
Reduce Suspended Solids
Control Odor
Lower FOG
Reduce Wastewater Sludge Volume
Control H2S
Reduce surfactants/chemicals
Improve start up and recovery from shock loading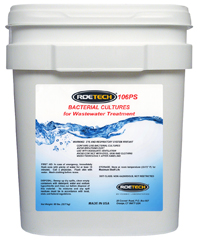 High levels of these and other enzymes produced* by the Bacillus and Pseudomonas strains in 106PS result in an extremely effective and versatile blend with many uses and applications.

Download RoeTech 106PS: Brochure | 106PS, 106PSWS820, and 106PSWS860 SDS
If you don't have an FREE Adobe Acrobat reader on your system, click

.